Welcome to gottagetashiftboot.com
Here at gottagetashiftboot.com we custom make your boots when you place the order.
This allows us to do things other companies can't.
Example: If you have a shift lever that has been shortened or is longer than stock,
we can easily add length or shorten the boot to match the lever in your car.
Car makes and models which we currently manufacture custom shift boots to fit.
Ball joints for all models Stealth and 3000gt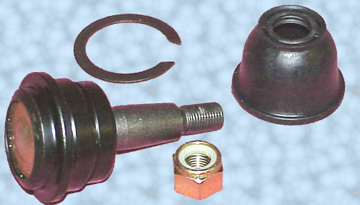 The ball joint shown is for illustration only.
Due to the fact that I use multiple suppliers the actual ball joint you receive may not look exactly like this.

These will fit ALL models of the 3000 gt and the Stealth original lower control arms.
We have sold thousands of these over the last 12 years and have never had a return.

The dealer will only sell the entire lower control arm, at a cost of several hundred dollars.


If you need more than 2 of these please contact us. We will discuss quantity and pricing. Price shown is for US shipping only. Contact us for shipping to other countries.